Instant Pot Air Fryer Duo Crisp Review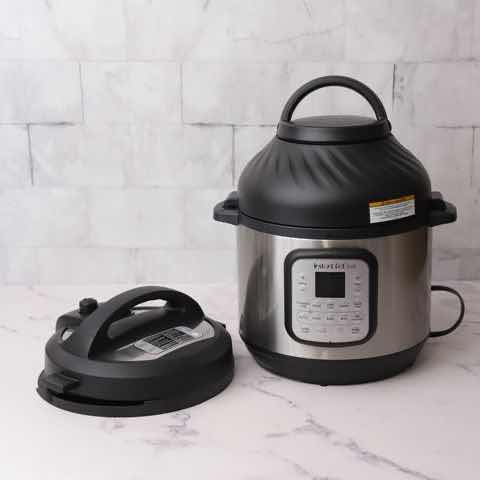 The Instant Pot Air Fryer Duo Crisp is a quality and affordable alternative to oven-baked or air-fried foods. However, it may not be the best pick for those already invested in an expensive kitchen appliance such as an electric pressure cooker.
After using the Instant Pot Air Fryer for over six months now, we share our full review of its counterpart: The Instant Pot DUO CRISP! 
We've loved the Instant Pot for years. You have to love an easy-to-use appliance and can help you get dinner on your table quicker than ever without sacrificing flavor? Over time, we have used it to make everything from soups to roasts to yummy one-pot meals! After a few years of using our standard 6 quart Duo model, it was time for an upgrade… I chose the Instant Pot Air Fryer Duo Crisp because I liked its larger size, increased functionality (like being able) air fry with this machine!), and other bells and whistles like built-in yogurt maker/yogurt function or more precise cooking controls.
What Is The Instant Pot Duo Crisp?
The Instant Pot Air Fryer Duo Crisp is a multifunctional air fryer, pressure cooker, and more! So if you're in the market for a kitchen appliance that can do it all with just one machine, this device may be perfect for your needs.
INSTANT POT DUO CRISP VS. INSTANT POT AIR FRYER LID
When you thought that the Instant Pot Duo Crisp was all there is, we're here to show off its more affordable counterpart. Now available separately from your new or used machine, this lid kit will add a whole array of cooking options! The Instant Pot Air Fryer Lid can air fry up crispy and juicy chicken wings in no time without any oil needed. It also includes additional accessories like an oven-safe pan with handles where you'll be able to bake delicious cookies or sweet treats on top. If baking isn't what's calling out to you today, then fear not because it has many other functions: roast meat and preserve vegetables, so they last longer while still retaining their fresh flavor!

What Models Does The Instant Pot Air Fryer Lid Fit?
The air fryer lid will fit all 6-quart Instant Pot models, except for the Smart Bluetooth, Smart WiFi 60, Duo SV, Max 60, and Duo Evo Plus.
Instant Pot Duo Crisp Specs
Size
The Instant Pot Air Fryer Duo Crisp has an 8-quart pressure cooker with a large air fryer lid. It is much larger than the 6-quart Instant Pot Duo that I replaced with and weighs 22 pounds, making for a pretty hefty appliance! This new model also features two cooking modes: steam setting or stovetop model with its increased size.
Functions
The Duo is a 7-in-1 multi cooker, while the Duo Crisp can do 11 functions. The Duo does pressure cooking, sautéing, and slow cooking with ease but cannot sous vide or dehydrate like its counterpart; however, it's possible to use this appliance as a yogurt maker, which isn't an option on other models.
Smart Programs
The Duo Crisp is perfect for when you're looking to simplify the cooking process. With its 14 pre-programmed functions such as 'soup/broth,' 'rice,' and more, it takes all of the guesswork out of making delicious meals in your Instant Pot.
What's in the box?
Instant Pot Air Fryer Duo Crisp makes cooking more effortless than ever. It has more functions, which means it comes with even MORE accessories:
Pressure Cooker Lid

Air Fryer Basket

Stainless Steel Pot

8-Quart Instant Pot Base

Air Fryer Lid

Broiling Tray
What I like about the Duo Crips
My Instant Pot Air Fryer Duo Crisp is the best investment I've ever made. It's perfect for making a quick, easy meal with minimal clean-up time! The Instant pot has been all over social media lately, and it seems to have caught on as one of America's favorite appliances in recent years. Nowadays, you can find an assortment of new models that are much lighter than their predecessors; some even come with Bluetooth connection or WiFi capability, so they're easier to use at home or while traveling abroad without needing access to their stovetop cooking appliance.
Multiple Appliances In One
I couldn't believe how much space my new Instant Pot Air Fryer Duo Crisp air fryer took up when it arrived. I had been eyeing an air fryer for a while. Still, the size of a single appliance was daunting, mainly because I own other machines that produce similar results already in my kitchen! But after using this compact and versatile device once or twice myself, all of those worries melted away as it quickly became evident what a time-saver the Duo Crisp is.
The Ability To Brown, After Pressure Cooking
One of the drawbacks to Instant Pot cooking is that food can come out a little mushy at the end. I like being able to pressure cook something, such as chicken thighs or carnitas, then switch it up with broil mode crisp them up! For example, last week, I made some great wings by combining my instant pot for pressure + air fry modes.
The Air Fryer Function
When I first started using the Instant Pot Air Fryer, I was worried that it wouldn't circulate air and my traditional air fryer. However, after testing some recipes with great success, such as fries and wings—I've been pleasantly surprised! The machine also has an automatic timer that tells you when your food is done cooking; this function eliminates any guesswork for consistent results. One word of caution: if following recipes from a more robust model like an Air Fryer or convection oven (or need crispy), add on another five minutes before removing the dish from the pot, so your creations don't end up soft and soggy instead of crisper than ever!
Sous Vide Function
One of the most popular protein cooking methods is called sous vide, which means "under vacuum." You seal your food in a bag with some water and cook it for many hours at low temperatures. The result? Perfectly cooked meat that stays tender even when you sear it afterward! I love this method because searing only takes minutes- not enough time to smoke up my apartment as frying does.
Cooking with sous vide is the wave of the future. This cooking method allows you to cook your protein to perfection by heating it evenly throughout, eliminating that overcooked end piece we've all come to know and love!
The sous vide function has been another massive win for me because I was unsure if this would be worth spending money on, but now after using it more than once, I'm starting to realize what a fantastic tool this one really could have used in my kitchen sooner. Essentially, a SOUS VIDE will allow you to get any meat cooked exactly how you want without having those pesky over or undercooked pieces at each end. There are usually some weird textures going on since they were either too hot or not quite enough heat applied, respectively.
A few versions of the Instant Pot have the sous vide function, but instead of circulating water as a standard stovetop version would do, it simply keeps your temperature constant. I wasn't sure if this would be as successful for cooking delicate proteins such as fish or seafood and vegetables compared to beef and pork that are more hearty products. However, I am happy with my results because using these functions has changed how well steak and pork cook in my kitchen!
What Are The Upgrades?
Here are a few upgrades of note:
Searing function – I bought the Duo Crisp Instant Pot Air Fryer because I was sick of working in batches, but I never expected that it would cook faster than my old one. When they said bigger is better, they weren't kidding!

Improved Sealing
 – The Instant Pot Air Fryer Duo Crisp is a much more reliable sealer than my old pot! I had to let the pressure build-up for so long before it sealed with my old model, but now that we have this new one, things are going way smoother.
Safer Pressure Release – The new pressure release valve on the Instant Pot Duo Crisp means that instead of twisting a knob, you now need to press down to trigger the valve. This new pressure release button will eliminate some of the fear of manually releasing pressure from the Instant Pot!
What Could Be Better?
After weeks of using my Instant Pot Air Fryer Duo Crisp, I can't deny that certain things about it don't work for me.
The Size of the Air Fryer Basket – Air fryers are a great alternative to ovens. Still, they typically have limited cooking space for more oversized items, and this Instant Pot Air Fryer is no different. Instant Pot Air Fryers can be frustrating if you like making large portions of food that need time in the air fryer before being served up at dinner!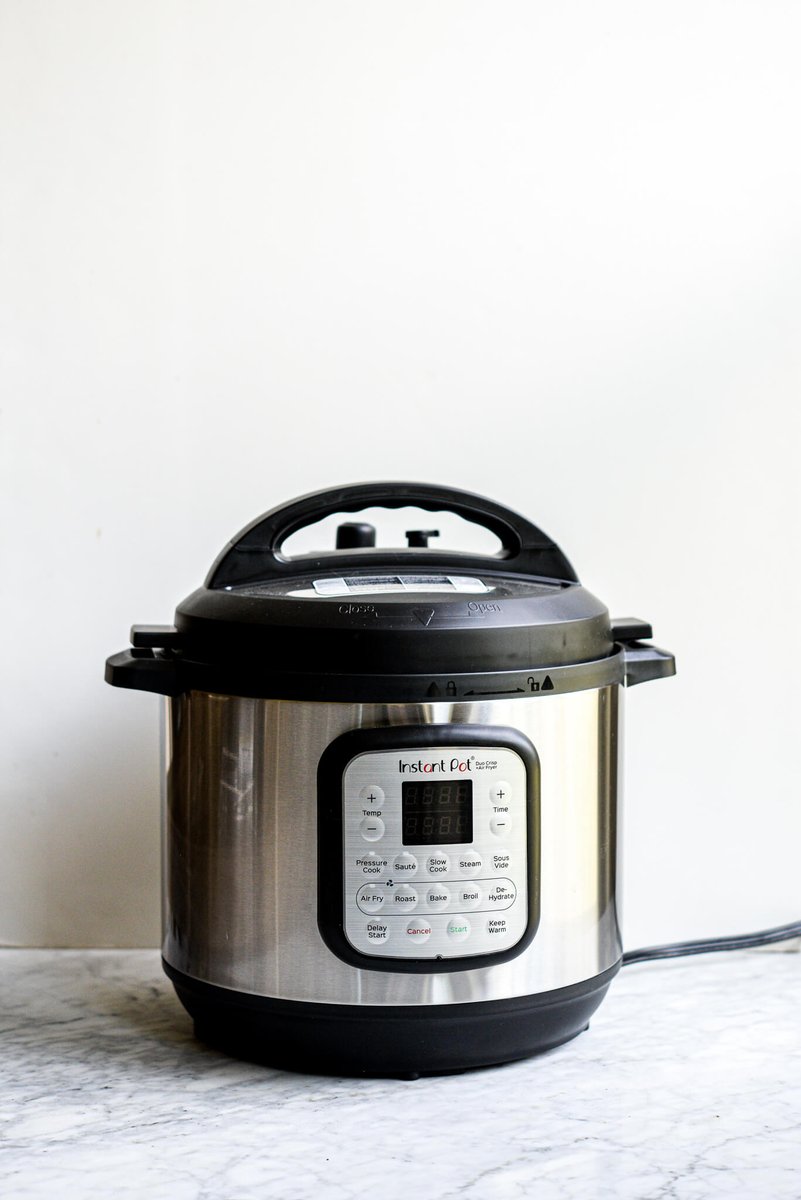 Massive – With the Instant Pot, air fryer, and sous vide wrapped into one appliance; space becomes a commodity. Be sure that before purchasing this giant machine, make sure you have enough countertop to accommodate it.
Air Fryer Basket Wears Out Fast – After a few uses, I started having trouble with the air fryer basket included with the pot. The non-stick coating started to wear down quickly, leaving me frustrated and disappointed after making my delicious fries or chicken because they had stuck on the bottom of the pan when it was time for clean up. To work around this problem without purchasing an entirely new device entirely (which would have been too expensive), I used some perforated parchment paper inserts to make sure all foods could bake evenly – no more sticking!
It is Faster and Slower – The Duo Crisp is perfect for frying up healthier foods. For instance, cooking fries in an air fryer can take as little time half as what it would on the stovetop or oven. I've found that when using this device, you'll need to add a few minutes more than usual because these recipes aren't designed with this unit specifically in mind but instead for traditional air fryers.
It is not a Substitute for a Slow Cooker – Instant Pots are modern marvels, but if you're looking for something that can replace your slow cooker, this is not the answer. It heats up too fast!
Instruction and Smart Programs Need Improvement- I found that, for the most part, following traditional air fryer recipes and adding more time as needed works just fine after I figured out how to use my Instant Pot's new function. However, the Duo Crisp Instant Pot Air Fryer did not come with much documentation to help.
Is It Worth Buying An Duo Crisp Instant Pot Air Fryer?
I bought this Instant Pot, and I love it! It's perfect for the person who likes to cook at home but doesn't have a lot of time. The price is fair, too, especially since so many functions are included in the Instant Pot Air Fryer. However, here are some things to consider:
But If:
You want an Air fryer well-suited for cooking smaller batches of food.

You like the idea of having one appliance that does it all.

You have been using the Instant Pot for a while, but it's time to upgrade. With your new model, you'll be able to cook more food in less time and with fewer dishes!

You've got plenty of room to use and store the Duo Crisp Instant Pot.
Do not Buy If:
You're only interested in the air fryer function. If that's not a priority for you, I'd recommend just going with a traditional air fryer!

If you're looking for a way to make your cooking experience more accessible, an Instant Pot is an answer. However, it's essential that before investing in one of their larger models like this one, you should try out simpler versions first and see if they fit your needs.

If you're cooking for just one or two people, then an 8-quart pressure cooker may not be the best fit. The smaller 6-quart size is more appropriate because it's easier to cook meals specifically designed for this number of servings without having them overflow in the pot and take up too much space on your stovetop.
Should I Buy The Instant Pot Duo Crisp Or Air Fryer Lid?
When you already have a favorite Instant Pot or don't want to upgrade to the 8-quart, the air fryer lid may work well with your pot. The included controls and functions allow this unique lid to cook food like traditional ovens, broil, and dehydrate greens! Owning an Instant Pot Air Fryer is especially handy if you own a 6-quart model because it uses less space in general.
The Air Fryer Lid is a great accessory to accompany your air fryer, but it may not be the best choice for cooking large batches. If you mainly want a lid to brown food and make smaller batch sides like fries or crispy brussels sprouts, this product will work well for you. But if you are looking to cook meals in one go, such as chicken wings, we would recommend upgrading to an 8-quart model instead!
Instant Pot Air Fryer Duo Crisp is the new and improved version of Instant Pot's most popular models, with a sleek design. With its wide range of functions to create everything from soup to dessert in just minutes, it seems like this kitchen appliance will be out on your countertop all day long!